For Hiring Firms

採用企業の方へ

経営の三要素は3つのM、即ちヒト(Manpower)、モノ(Material)、カネ(Money)と言われています。
しかし、それらを有機的かつ効率的に活用する優秀な人材、または、その能力を充分発揮し得る組織が円滑に機能しないと、事業の永続的で健全な運営はなされません。

ECI社は、人と組織に関する総合コンサルティングをテーマに、単なる人材の斡旋ではなく、人事制度と人材情報のサーチ活動を通じて、高品質の人材コンサルティングサービスを提供しています。

The three major elements of management are quoted to constitute of the three 'M's:i.e. Manpower, Material, and Money. However, if a talented people who utilize them organically and efficiently, or am organization that could fully let there abilities to, function smoothly, the business will not perform in a sustainable and sound manner.

ECI provides high-quality comprehensive human resources consulting services via analysis in personnel systems and implementation to human resources information search activities, not only recruiting human resources, comprehensive consulting on people and organizations.
Contract and its

How to proceed

人材コンサルティングの契約とその進め方
01.Suggestion企業様へのご提案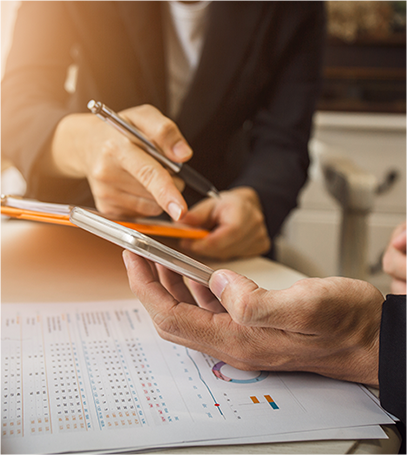 クライアントニーズの的確な把握。これが我々のコンサルテーションの第一歩です。具体的には、御社がいかなる人材を必要としているのか、なぜその様な人材を必要としているのか、そしてそのような人材に何を期待しているのかについて、充分な理解をさせて頂きます。又、それに伴ない、御社の企業理念、事業目標、事業または商品の特色、将来の展望や、人事組織体系、組織の活性度合、更には労働条件等についてお話し合いをさせて頂きます。そして、御社との理解と同意に基づきスペシフィケーション(職務仕様書)を作成致します。


The first step in our consultation is an accurate understanding of client needs. Specifically, we will fully understand what kind of human resources that the client needs, why such human resources are required, and what is expected from such human resources. In addition, we will discuss on the client's corporate philosophy, business goals, characteristics of business or products, future prospects, personnel organization system, degree of organizational activity, and working conditions, etc. Thereafter, we will propose a specification of the hiring needs based on mutual understanding and consent.
02.Analsisターゲットの分析・サーチ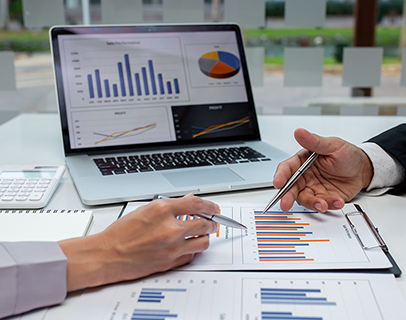 対象となる業界・企業・部門・職種の分析を行います。


We analyze the target industry, company, department, and job category.
03.Search競合会社の分析・サーチ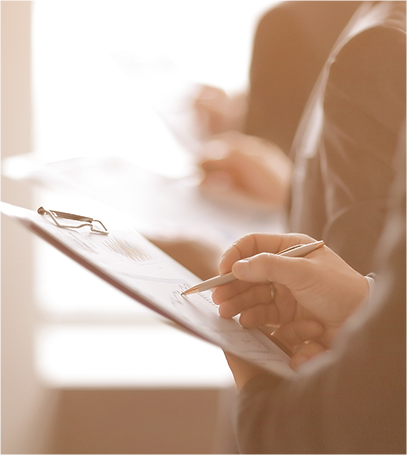 上記で策定した職務仕様書(Specitication)に基づき、ターゲットと考えられる会社・団体等のリストアップを行い、それに対する追加・削除等の調整を御社と共に行います。このリスト("ターゲット企業リスト")に基づき、具体的な人材情報のサーチ活動に入ります。(プロジェクトのスタート)一般的には、大学卒業名簿、社員名簿、その他各種の人材データベース、外部・内部情報チャネルを通じて人材情報サーチを致しますが、具体的なご要望、即ち職能、語学力等によって各プロジェクトの難易度は異なり、従って、人材情報の提供に至る期間もプロジェクトごとに異なります。人材情報サーチが完了しますと、ターゲット企業毎にその人材情報(この時点では匿名となります)を新たにリストアップします("Long List")。同リストに関して新たにスクリーニングを行います。その後電話等による打診、数次に亘る面接を経たあと、弊社のスクリーニングの結果、適格者に関する人材情報の提供というステップを踏みます。上記のサーチ活動と並行して、同時進行的に人事制度・人事組織に関わる競合会社の環境調査、情報収集・分析、更には給与体系に関する情報提供を行います。人事情報の提供による最終採用決定に当っては、これらの情報収集・分析を基礎に当該採用に対する待遇、条件等についてもアドバイスを行います。


Based on the specifications, we will list the companies and organizations that are considered to be targets. We will screen with the client for adjustment such as additions and deletions to it. Based on this list ("Target Company List"), we will start searching for specific human resources information. (Start of project) Generally, we search for human resources through university graduates (alumni) list, employee list, various human resources databases, and external / internal information channels, but depending on specific requests, i.e, job function, language ability, etc, the difficulty of each project differs. Therefore, the time taking to provide human resources information also varies from project to project. When the human resources information search is completed we will list-up the human resources information in the Target Company List respectively ("Long List") thereon another screening will be done between the client and us, thereafter we will take the step of providing human resources information on qualified personnel as a result of our screening, after undergoing telephone consultations and several interviews.
In parallel with the above search activities, we will provide the client environmental surveys, information in the personnel system and personnel organization, and provision of information on the salary system included competitors. At final hiring decision, we will also provide advices on the specific, conditions. for the hiring.
04.Contact候補者へのコンタクト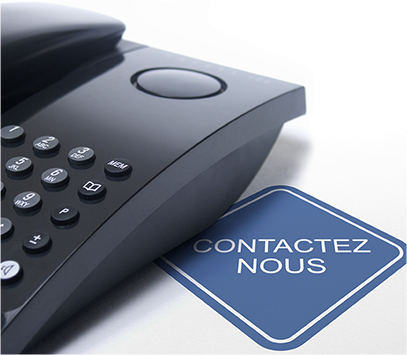 上記プロセスを経てリストアップされた候補者の方に弊社スタッフから電話、書信等によりコンタクトし、求人内容の概略説明、転職への関心有無の確認を行います。転職そのものへの関心がない方には原則としてコンタクトを続けることはありません。また応募の意思が確認出来るまでは原則として求人企業の固有名を開示することもありません。


Our staff will contact the candidates listed through the above process (Long List) by telephone, letter, etc., outline the contents of the job offer, and confirm whether or not they are interested in changing jobs. As a general rule, we will not continue to contact those who are not interested in changing jobs. In principle, we will not disclose the specific name of the client until we can confirm his/her application for the job.
05.Conversation候補者へのインタヴュー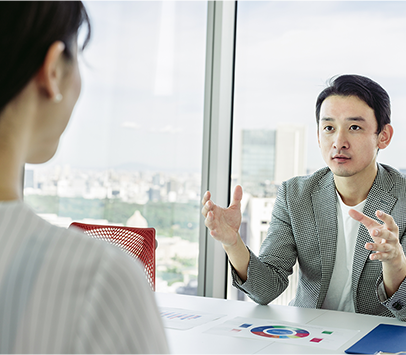 求人内容に関心を示した方には弊社コンサルタントによるインタヴューを必ず行います。基本的な関心を示された方へは求人企業の概要、求人ポジションの内容、求人ニーズの背景などを正確に説明し具体的な応募意思を確認致します。同時に候補者の方の履歴・職務経歴・人柄・対象ポジションへの適格性などをチェックします。


We always interview with those who are interested in the job offer. For those who have shown a basic intention to apply, we will accurately explain the outline of the hiring company, the content of the recruiting position, the background of the recruiting needs, etc. and confirm the specific intention to apply. At the same time, the candidate's personal history, job history, personality, eligibility for the target position, etc. are checked.
06.Interviewご採用企業による面接
応募の意思並びに適格性が確認された候補者の方の履歴書・職務経歴書に弊社意見を付した報告書を求人企業に提出し、面接のご希望有無を確認します。("Short List")面接対象となった候補者の方に連絡し面接スケジュールの確認、アレンジを行います。面接には求人企業・候補者の方のご異存がない限り原則として弊社スタッフが同席を致します。


We will submit a report with our opinion to the profile of the candidate ("Short List") of whom we confirmed candidacy and qualification, an interview with the client. We will contact the candidate to schedule arrange the interview. As a general rule, our staff will be present at the interview unless there is any objection from the recruiting company / candidate.
07.Placement採用決定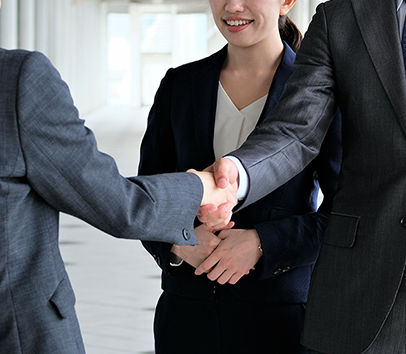 面接を含む選考プロセスを経て求人企業による採用が決定されます。弊社は採用企業のご意向に添って合格者への内定通知書ご手配、応諾手続等への助言とお手伝いをし、よりスムーズな採用過程を可能にします。また合格者の現職からの退職、採用企業への入社、採用ポジションでの着地・着手("on board")と離陸・ブレークスルー("take off")にもご依頼に応じて助言を致します。


Placement is decided by the hiring company through a selection process including interviews. We will a support for offering letter and / or an employment agreement for a successful candidate, give advices and make acceptance procedures, etc. at request of the hiring company to enable a smoother hiring process. In addition, we will advise successful candidate to retire from their current positions, join hiring companies, land thereon / start therein ("on board") and takeoff / breakthrough ("take off") at hiring positions upon request.
Clients

( the names as of the time of the recruiting ) 主要クライアント一覧(社名は当時)

Agfa Gevaert Japan, Ltd.
Amkor Technology, Inc.
Andreas Kufferath GmbH & Co. KG
Applied Materials Japan
Autodesk Inc. Japan
Bayer Medical Ltd.
Behr Japan K.K.
BJB GmbH & Co.KG
Boehringer Mannheim K.K.
Brinkmann GmbH & Co.KG
Brose Ltd.
C.Illies & Co.,Ltd. ( K.K. Irisu )
Camfil Farr
Compaq K.K.
Comtesse Japan Ltd.
Chrysler Japan Sales, Ltd.
Dow Corning Asia Ltd.
Electronic Data Systems Japan Ltd.
Elegance Fashion & Design Japan
F.A.G., Germany
Florimex International B.V.
Ford Motor Company ( Japan ) Ltd.
General Electric Capital Consumer Finance
GKN Japan Limited (Tokyo)
Grohe Japan Ltd.
Glovia International K.K.
IDS Scheer Japan K.K.
I.F.F. Japan Ltd.
Ingersoll-Rand Asia Pacific Inc.


Lucent Technologies Japan Ltd.
LVMH
LWW Igaku-Shoin Ltd.
Manugistics Japan K.K.
Mann + Hummel GmbH
Meritor Automotive Japan Co., Ltd.
Microsoft Co., Ltd.
MSC. Software Corporation
NextCom K.K.
Network Associates Technology,Inc.
Nihon Sun Microsystems K.K.
Nippon Schneeberger K.K.
Nippon Roche K.K.
Nippon Edwards K.K.
Otto – Boch Japan
Otto- Sumisho Inc.
PeopleSoft Japan, K.K.
Puratos Japan Co.,Ltd.
Recaro GmbH & Co
Respironics,Inc.
Rexroth Automation
Salvagnini Italia S.P.A.
Schenker-Seino Co., Ltd.
Shu Uemura Cosmetics Inc.
Siemens AG
Storage Technology Japan Ltd.
Sulzermedica Japan K.K.
The Fantastic Corporation
Triniti Corporation